OUR BUSINESS
RCE Capital Berhad ("RCE") is a company listed in the Main Market of Bursa Malaysia Securities Berhad ("Bursa") since 2006 and a subsidiary of Amcorp Group Berhad. Our primary business is in the provision of financial services, with emphasis on responsible lending and delivery of sustainable return to our stakeholders supported by solid organisational infrastructure to facilitate our operational objectives
Our core activities revolve around RCE Marketing Sdn Bhd ("RCEM") and its subsidiaries ("RCEM Group"), acting as financiers and total solution providers to our business partners, which focus on shariah-compliant lending to civil servants.
To complement our business, we have acquired RCE Factoring Sdn Bhd ("RCEF") and established EXP Payment Sdn Bhd ("EXP") to expand into commercial financing and payroll collections management back in 2007 and 2014 respectively.
OUR STRATEGY
We are committed to remain as a responsible lender, prioritising quality loans growth and good customer service as we continue expanding our business in the consumer financing space. Efficiencies in turnaround time, ethical sales distribution channel and risk-based pricing strategies are regularly monitored to remain sustainable in the competitive market. As a Group, we aim to refine our technologies and processes to be innovative, in tandem with the ever changing digital landscape.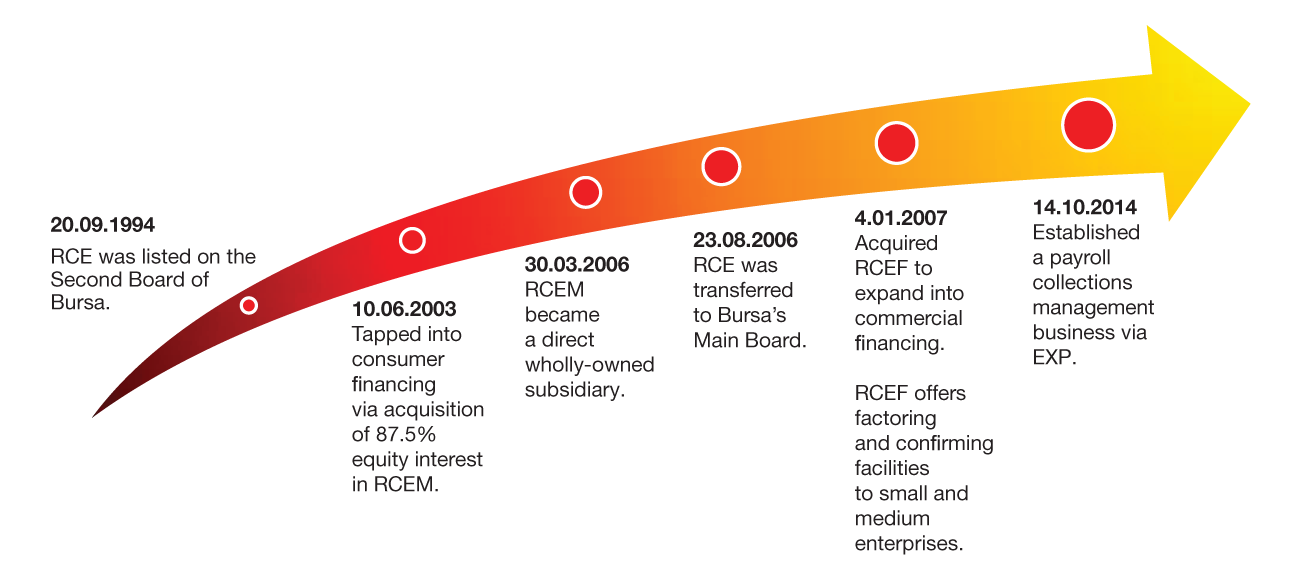 SUMMARY OF GROUP FINANCIAL PERFORMANCE
For financial year ended ("FYE") 2019, RCE Group registered a higher revenue of RM262.6 million with a 6.8% Year-on-Year ("YoY") growth from RM245.9 million in FYE 2018. The growth was primarily contributed by RM234.3 million higher interest income, underpinned by expansion in quality consumer financing loans.
As at 31 March 2019, the loan base of the Group rose to RM1.7 billion, an increase of 5.2% from the previous FYE of RM1.6 billion, despite the challenging economic environment.
With the increase in borrowings to RM1.6 billion from RM1.3 billion, interest expense has increased from RM69.3 million to RM78.0 million a year ago. Notwithstanding that, the Group maintained the range of its average borrowing costs similar to that of FYE 2018.
The Group recently established a new Sukuk Murabahah Assets-Backed Securitisation Programme ("RM2.0 billion Sukuk Programme") via a special purpose bankruptcy remote vehicle, namely Zamarad Assets Berhad ("ZAB"). The first issuance of RM240.0 million with a weighted average profit rate ("WAPR") of 4.9% per annum was much lower than the WAPR of 5.4% per annum for Al Dzahab Assets Berhad's previous RM900.0 million Sukuk Programme, echoing the Group's continuous initiative in seeking lower financing products.
Issuance of ZAB Tranche 1 helped to lower average borrowing costs by approximately 10 basis points.
Non-core income of the Group for FYE 2019 totalled RM15.5 million, an increase of RM3.8 million or 32.2% from RM11.7 million, mainly arising from higher interest income earned from deposits with licensed financial institutions.
Our operating expenses increased from RM41.3 million to RM45.2 million in FYE 2019. This is largely driven by efforts taken to upgrade existing infrastructure, systems and processes, to strengthen regulatory and industry compliance. The Group's cost to income ratio ("CTI") increased marginally to 22.2% in FYE 2019 as compared to 21.6% a year ago.
As at 31 March 2019, gross impaired loans ratio increased to 7.4% as compared to FYE 2018 of 7.1%, taking into account the adoption of Malaysian Financial Reporting Standard ("MFRS") 9 with effect from 1 April 2018, replacing MFRS 139. Despite the changes in modelling from an incurred loss in MFRS 139 to an expected credit loss model in MFRS 9, loan loss coverage stood at 172.1% lower than the previous FYE of 178.0%, further demonstrating that asset quality is resilient and credit risk management policies are sound.
Overall, RCE Group achieved a higher profit before tax of RM131.1 million in FYE 2019, representing a solid increase of 11.7%, from RM117.4 million a year ago. Similarly, its profit after tax of RM95.5 million in FYE 2019, grew 7.7% from RM88.7 million in FYE 2018.
Given the improved financials, the Group's earnings per share increased to 28.02 sen for FYE 2019 as compared to 26.03 sen in FYE 2018.
Correspondingly, the modest growth generated a return on average equity of RM17.3%.
BUSINESS OPERATIONS REVIEW
Consumer Financing
Revenue for the current financial year grew by 7.0% from RM244.8 million in FYE 2018 to RM262.0 million in FYE 2019. Coupled with strict cost management, this segment's profit after tax rose to RM97.2 million, 7.7% higher than a year before.
Our pricing strategy is a culmination of various factors, both internal and external, with the objective to manage risks while keeping market demand and competition in mind. Expansion of quality loans portfolio remains a key objective, complemented by regular review of products, credit practices and credit scoring models to ensure we remain relevant and competitive in the prevailing market environment.
A robust credit scoring model is employed to assess a customer's risk level, complemented by due diligence credit practices to safeguard asset quality. Products are priced and designed for specific risk levels, with higher priced products for riskier customers.
While asset quality and product margin cater to returns, operationally, distribution channels and customer engagement are driven through a two-pronged approach. Implementation of a new Interactive Voice Response telephone system demonstrates our greater focus on improving customer experience, providing better interaction and communication.
At the same time, our Sales Team is enrolled in training programmes to upskill their professionalism as well as regulatory compliance. Ethical selling practices guided by our Code of Conduct are cultivated, with technological aid through our enhanced online platform for swift service delivery.
As we move forward, this segment will remain our core business and primary contributor to our top and bottom lines. Hence, we stay committed as a responsible lender, elevating our service level through speed, quality and customer service excellence with the aim of sustaining long-term growth.
Investment Holding, Management Services and Others ("IHMSO")
Our IHMSO segment reported RM0.6 million revenue in FYE 2019, RM0.5 million lower as compared to a year ago of RM1.1 million, mainly due to the Group's focus on recovery of non-performing loans.
Notwithstanding that, loss before tax has improved slightly from RM1.1 million a year ago to RM1.0 million this FYE mainly contributed by lower operating costs. In FYE 2019, loss after tax of RM1.7 million was higher as compared to RM1.6 million in FYE 2018 primarily due to higher non-deductibility of expenses.
The contribution of this segment to the Group's performance will remain marginal in the next FYE.
LIQUIDITY RISK MANAGEMENT
Liquidity risk management is of paramount importance to the Group, taking into consideration our short to long-term funding requirements.
The launch of RM2.0 billion Sukuk Programme provides the Group an avenue for continuous funding and another footprint into the debt capital market.
We constantly sourced for the cheapest funding and we use both fixed and floating rate funds to get the optimal funding mix at the lowest cost.
Group borrowings stood at RM1.6 billion, less than two times gearing as at 31 March 2019.
| FYE | 2019 | 2019 |
| --- | --- | --- |
| Borrowings (RM'bil) | 1.6 | 1.3 |
| Gearing Ratio (Times) | 1.9 | 2.1 |
CAPITAL MANAGEMENT/INVESTMENTS
The Group's capital management is aimed to achieve a more efficient capital structure, without compromising stakeholders' value and expectation. This is driven by our business objective and risk appetite, complemented by regulatory compliances.
The Group continued to sustain its financial performance with shareholders' equity as follows:
| FYE | 2019 | 2019 |
| --- | --- | --- |
| Shareholders' Equity (RM'mil) | 583.5 | 519.3 |
Within a dynamic and fast-paced environment, there is an ever present risk for every entity who does not continuously update or innovate to become obsolete. With that in mind, a further RM1.4 million was invested in the current financial year for upgrading of existing technologies and process simplification initiatives.
OUR PEOPLE
Human resource remains a key asset within any organisation and talent management will always be an essential factor to the future growth of an organisation. We continue building employees' competencies through our robust talent management and development programmes, pushing them to maximise their potential, staying agile, driving positive change and increasing awareness towards the importance of risk management in today's evolving digitalisation environment.
We are not immuned to the risks and challenges faced by many other organisations in regards to talent management. As such, the Group has increased its focus in employees' key performance by:
implementing executive coaching;
conducting leadership programmes;
enhancing leave benefits and perks; and
upskilling exercising for expansion of employees' capabilities.
Policies and initiatives are regularly updated with our employees to develop valuable partnerships.
Please refer to pages 27 to 28 of our Sustainability Statement for a detailed discussion on employment management and development.
DIVIDEND
Taking into consideration our stable earnings and availability of sustainable funding programme for the next few years, capital previously allocated for business growth could now be redistributed to shareholders. Hence, the Board is proposing a higher final single-tier dividend payment of 5.0 sen per share for FYE 2019 which is subject to the shareholders' approval at the 65th Annual General Meeting.
Together with the interim single-tier dividend of 4.0 sen per share paid on 13 December 2018, the total dividend payment for FYE 2019 is 9.0 sen per share, 2.0 sen higher as compared to 7.0 sen a year ago. This translates to a dividend payout ratio of approximately 32.1% for FYE 2019 as compared to 27.0% a year ago, which is in line with our dividend guidance within 20.0% to 40.0% of profit after tax adopted from FYE 2019 onwards.
Bearing business sentiments and moderating loans growth arising from an expanding portfolio in mind, we aim to optimise our capital structure and strive to strike a balance between retaining funds for business growth and achieving a healthy return on equity.
OUTLOOK FOR 2019/FYE 2020
The global economy is expected to expand moderately with slower growth in both advanced and emerging market economies. Against this challenging backdrop, Bank Negara Malaysia expects Malaysia's economy to grow moderately between 4.3% to 4.8% (2018: 4.7%) while headline inflation is forecasted to remain stable averaging between 0.7% to 1.7% in 2019 (2018: 1.0%).
As Malaysia is progressing towards a digital economy, we continue embracing technology to streamline our operations, distribution channel and risk management infrastructure, improving operational efficiencies and customer experience.
Last but not least, we will stay vigilant to deliver long-term sustainable growth by aligning our strategy with the principles of environment, social and governance across all entities.