OUR BUSINESS
RCE Capital Berhad ("RCE") is an investment holding company, listed on the Main Market of Bursa Malaysia Securities Berhad since 23 August 2006, and a subsidiary of Amcorp Group Berhad. RCE's subsidiaries core business is in the provision of financial services focused on providing shariah-compliant financing with the aim of generating sustainable returns to its stakeholders.
Key contributors to the Group are RCE Marketing Sdn Bhd ("RCEM") and its subsidiaries ("RCEM Group") and EXP Payment Sdn Bhd ("EXP"). These entities collectively serve as total solutions provider to our business partners, which in turn also provide shariah-compliant financing to their end customers who are primarily civil servants. Repayments from these customers are through monthly direct salary deductions.
The Group acquired RCE Factoring Sdn Bhd ("RCEF") and EXP back in 2007 and 2014 respectively to complement the core business. RCEF offers both conventional and shariah-compliant financing to its designated customer segment, in addition to commercial financing to small and medium-sized enterprises via factoring and confirming arrangements.
Meanwhile, EXP provides salary deduction collection management services for Government departments. The deduction is done under the purview of the Accountant General's Department of Malaysia as an alternative to deduction services provided by Biro Perkhidmatan Angkasa.
OUR STRATEGY
As a responsible financial service provider, the Group is committed to adopting industry-wide best practices, maintaining ethical sales channels and developing fair risk-based pricing products. We, as an organisation, strive to provide exceptional customer service and quick turnaround time. Our belief is that catering to our customers' needs by deploying suitable technologies and process innovations are meaningful ways to create long term growth in our consumer financing business.
RCE aims to become a fully shariah-compliant financier and have embarked on this journey by refinancing all the conventional facilities to shariah-compliant facilities extended to our two main business partners. By so doing, we are now operating in a complete end-to-end shariah-compliant ecosystem. Considering the market environment that we operate in, this is the proper strategy for the Group's business sustainability.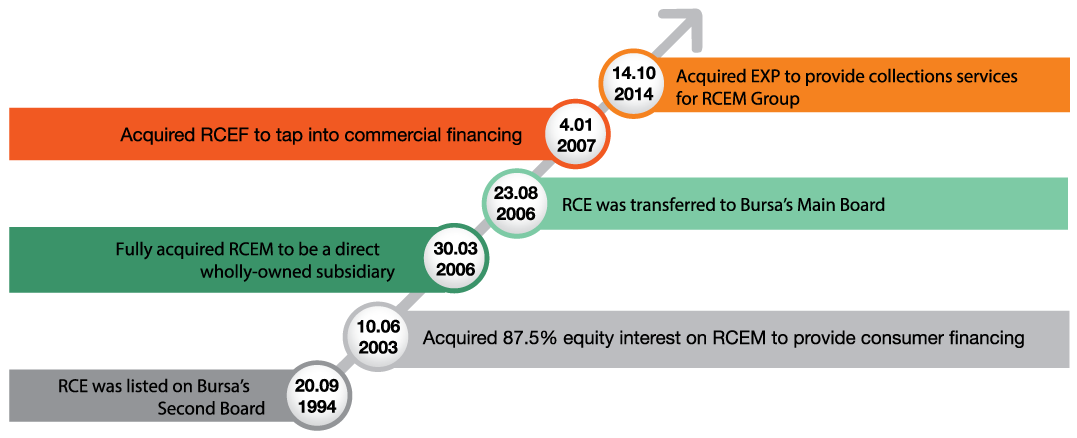 SUMMARY OF GROUP FINANCIAL PERFORMANCE
For the financial year ended ("FYE") 2021, the Group recorded a higher revenue of RM293.5 million from RM284.2 million in FYE 2020, a 3.3% year-on-year growth. This was mainly led by higher early settlement income arising from higher refinancing activities by customers, backed by marginal financing base growth of 1.4% from RM1.82 billion in FYE 31 March 2020 to RM1.85 billion. Revenue growth remained healthy despite the COVID-19 pandemic ("pandemic") driven disruptions as a result of our effort in implementing ongoing sales and marketing initiatives to boost disbursements.
Meanwhile, profit expense of the Group decreased from RM81.7 million to RM80.4 million in FYE 2021. This was mainly due to repayment and full settlement of existing term financing as well as reduction in overnight policy rates announced by Bank Negara Malaysia ("BNM") in May and July 2020, offset partially with higher profit expense from additional two sukuk issuances during the financial year. We monitor profit expense to ensure that our cost of fund ("COF") remains at a level that eases product development by continuously sourcing for cheaper funding. To-date, additional sukuk issuances have brought down the Group's COF by approximately 25 basis points.
To support business expansion, the Group also continuously source for shariah-compliant financing. This is in line with the Group's direction to be a shariah-compliant financial service provider and broaden the choices of financiers, further to providing room for securitisation or pledging of its financing receivables for other and/or future banking facilities.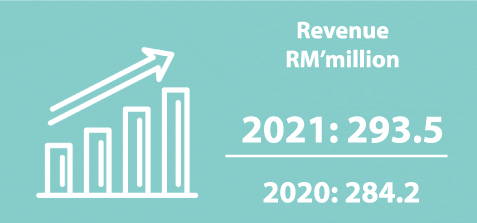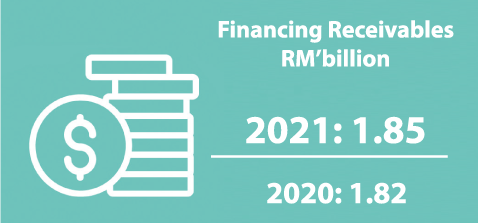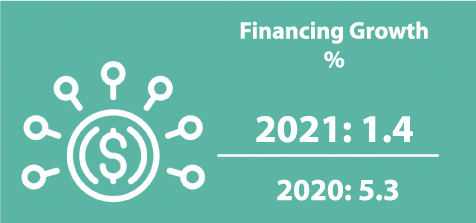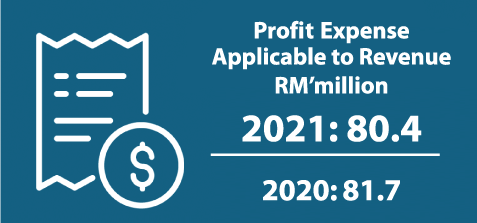 Non-core income of the Group is mainly contributed by profit income generated from deposits placed with licensed financial institutions and bad debts recoveries. As at 31 March 2021, non-core income was RM19.0 million, a 1.2% growth from RM18.8 million in FYE 2020.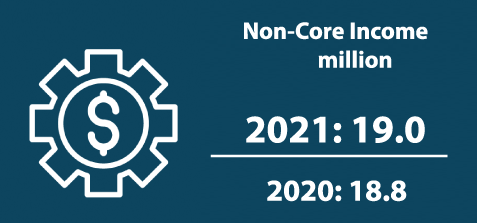 Our operating expenses remained constant at RM49.3 million in FYE 2021. This was a direct result of active cost management where overall reduction was achieved despite recording higher directors' remuneration and staff costs as well as depreciation of plant and equipment and right-of-use assets. Correspondingly, the Group managed to improve its cost to income ratio to 21.1% in FYE 2021 from 22.2% in FYE 2020.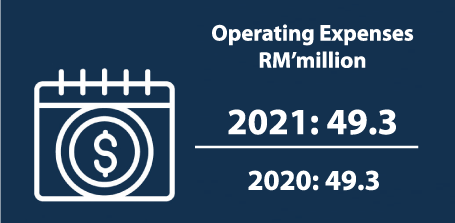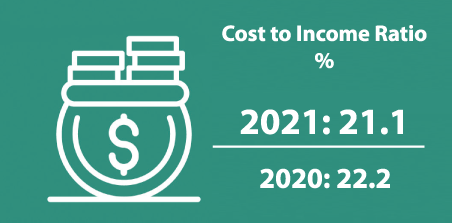 The Group also recognised lower allowances for impairment charge of RM15.6 million as compared to a year ago of RM23.1 million. This is after taking into account an improved forecasted Real Gross Domestic Product which is a forward looking variable used for calculation of expected credit loss. The forward looking variable is based on the financial reporting requirements in MFRS 9. We are required to apply the latest economic scenarios and reflect an unbiased probability-weighted range of possible future outcome to ensure prudent asset quality assessment. Lower impairment allowances were also contributed by our sound credit risk management and underwriting criteria, which is objectively guided by the Group's credit scoring model that has been in effect since May 2013.
The Group's gross impaired financing ("GIF") has improved to 6.7% in FYE 2021 from 7.1% in FYE 2020. GIF improved as our end customers are civil servants with good job security. Financing loss coverage stood at 168.4%, lower than FYE 2020 of 173.0% but sufficiently strong as our collection from customer is via direct salary deduction which mitigates the risk of non-repayment.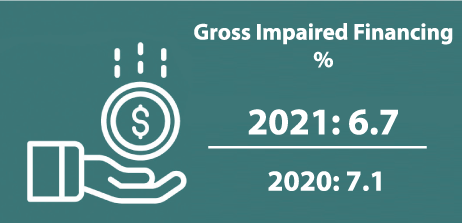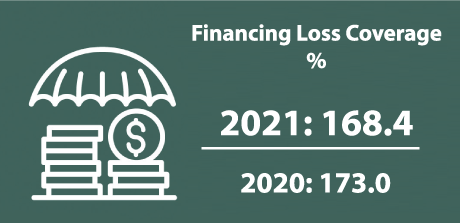 Following the above, the Group recorded a higher of profit before tax of RM167.2 million, representing a 12.3% increase from RM148.9 million in FYE 2020. Overall, the Group delivered a solid growth of 12.7% in its profit after tax to RM124.6 million from RM110.6 million a year ago.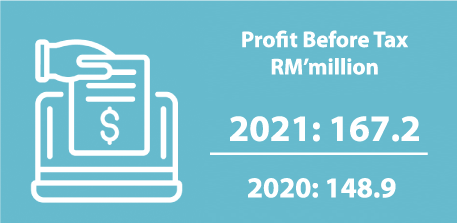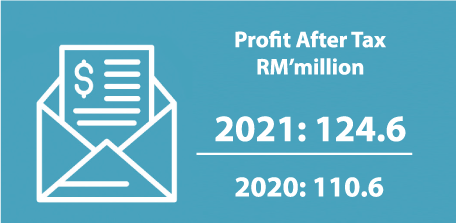 The Group recorded a return on average equity of 17.2% and a higher earnings per share of 35.0 sen for the current financial year.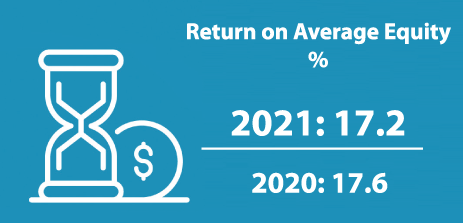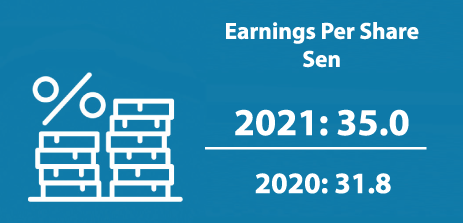 BUSINESS OPERATIONS REVIEW
During the financial year under review, the main priority was to ensure that operational disruptions were kept to a minimum while balancing the health, safety and well-being of our employees during the pandemic. As part of and in addition to compliance with Government measures, the Group established standard operating procedures ("SOPs") to serve as requirements for employees to adhere to strictly. Essential training like regulatory updates and requirements were gradually shifted online. Daily online self-care tips were also shared with employees during these unprecedented times.
All employees working from home are digitally enabled with a desktop or laptop that allows them to log on to the company's Virtual Private Network. However, there were some challenges such as internet coverage at employees' residence and document delivery to various stakeholders arising from the movement restrictions. Additionally, some employees were required to be physically present in the office for essential operational and regulatory tasks that had set timelines.
Our customers were encouraged to email or courier application documents as an alternative to physical submission through service counters. Whilst online communication channels remained available for customers to reach us, in early March 2021, chatbots or virtual chat assistance were launched in our business partners' websites and Facebook pages. It marked another step forward in facilitating better interaction and user experience with customers. In view of safety concerns, physical marketing initiatives were postponed in favour of building a stronger online presence.
Amidst challenging market conditions, we launched promotional campaigns and incentives to boost demand for our financial products. As part of our overall shariah-compliant branding push, the Group also introduced a new marketing logo to develop a distinct and recognisable brand presence for our target market.

Our credit risk strategy remains anchored around a balance between credit quality, profitability and sustainable growth. It is formulated by keeping in mind the Group's overall credit risk appetite and exposure. We also carry out periodic reviews on our credit policies and frameworks to ensure that they stay up to date.
LIQUIDITY RISK MANAGEMENT
The Group maintains sufficient liquidity through active Asset Liability Management which aims to match assets and liabilities. To allow for better management and decision making, rolling cash flow projections are prepared throughout the financial year. Furthermore, we constantly look at ways to maintain optimal mix of fixed and floating rated financing liabilities to manage the profit rate risk.
As at 31 March 2021, the Group's financing liabilities consisting of sukuk, term financing/loans and revolving credits stood at RM1.67 billion, which equates to a stable gearing ratio of less than 2 times.
To-date, RCE has issued six tranches of the RM2.00 billion Sukuk Murabahah Asset-Backed Securitisation Programme via Zamarad Assets Berhad ("ZAB") totalling RM859.0 million, out of which RM79.0 million is subscribed internally by the Group's subsidiary, RCE Trading Sdn Bhd. We activated the Revolving Option ("RO") feature for the sixth tranche with an issuance size of RM124.0 million in July 2021. This RO feature allows ZAB to purchase additional receivables from a subsidiary, RCEM by utilising its excess funds from the sinking funds. The proceeds received by RCEM will be subsequently used to generate new disbursements, thereby providing ongoing funding for the Group and minimising negative carry.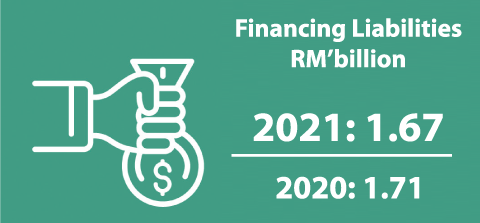 Total cash and cash equivalents of the Group stood at RM597.9 million as at 31 March 2021. Out of this amount, a total of RM571.0 million was in relation to deposits with licensed financial institutions, mainly derived from collections remitted into sinking funds for future payments of sukuk principal and profit expense. These deposits are managed by independent trustees of the respective Sukuk programmes and are placed in financial institutions with proven track records as well as competitive deposit rates.
As at 31 March 2021, the Group had RM72.8 million (FYE 2020: RM300.1 million) and RM577.6 million (FYE 2020: RM594.6 million) financing liabilities and deposits respectively with AmBank Group. Whilst we have common ultimate shareholders, all transactions relating to those financing liabilities and deposits were based on full competitive terms.
CAPITAL MANAGEMENT/INVESTMENTS
The Group practices effective capital management for the sustainability of its core business. In FYE 2021, we focused on maintaining a strong capital base as a continuation of our capital management strategy, compliance with regulatory requirements and expectations of various stakeholders.
Recognising that remote workforce and work from home environments carry a new set of risks on the cybersecurity front, the Group prioritised a swift firewall upgrade as a preventive measure against cyberattacks and security breaches. The Group engages external cyber security professionals for penetration testing periodically to mitigate such risks.
During the various phases of movement control order, the readiness of our Business Continuity infrastructure allowed our employees to seamlessly adopt to working remotely. Meetings and discussions were conducted using video communication tools.
The digitalisation of the business have helped in smoothening out the deliveries to all stakeholders.
In FYE 2021, we allocated approximately RM2.9 million for investments in digital transformation, specifically on IT office infrastructure which has been completed and went live this financial year. Several other digitalisation initiatives are expected to be completed in FYE 2022. They will improve our online customer experience by enabling faster turnaround time through real-time customer verification and reduced manual financing applications.
Going forward, continuous investments in technology upgrades and process automation with a view to enhance customer experience is important for success. Ongoing enhancements will help the business to remain resilient during periods of disruption while maintaining a high degree of security over all corporate resources.
OUR PEOPLE
The Group has always viewed our people as the most valuable asset. Efforts have been made in cultivating and retaining the talent pool as they become more vital. In FYE 2021, we concentrated on strengthening our employees' competencies through investing in talent management and leadership development programmes. Our belief is that in an uncertain and turbulent environment, it is crucial for the workforce to have an agile mindset and to be equipped with the right skills and tools to thrive. As a matter of best practice, all our people are updated promptly on all relevant policies and SOPs.
For further details about our people, please refer to our Sustainability Statement on employment management and development that can be found in this Annual Report.
OUTLOOK FOR 2021/FYE 2022
The global Gross Domestic Product ("GDP") is set to return to positive growth in 2021 as countries adjust to the new normal and economic activities gradually increase back to previous levels. This is due to strict and prompt government interventions around the world with lockdowns and physical distancing SOPs slowing COVID-19 transmission in many countries. Notwithstanding the resurgence of cases in parts of the world, the global vaccination programme currently underway will drive the recovery of economic activities by improving consumer sentiment. Despite the pandemic's long economic shadow, International Monetary Fund projects that global GDP will grow by 6.0% in 2021.
On the domestic front, BNM estimated that the Malaysian economy will grow between 3.0% and 4.0% in 2021. The growth will be supported by less restrictive containment measures following the National Recovery Plan, COVID-19 vaccine rollout and continued policy assistance for household and businesses, thus improving consumer demand besides gradually normalising our economic activities.
In the meantime, we will continue with ongoing sales and marketing initiatives to boost disbursements to capitalise on financing demand during these turbulent times. We are currently better prepared to face uncertainties arising from the pandemic as we continue to engage in active costs management and close monitoring of collections.
The Group is mindful about our environment, social and governance ("ESG") commitments for sustainability of our business. We continue to calibrate our strategies and operations with ESG-related principles in mind. During this period, employees' health, safety and well-being are prioritised. A significant portion of our workforce is being enabled and empowered to work from home while the Group practises strict adherence to SOPs in relation to the pandemic.
By default, the Group will deploy technology to remain competitive and relevant. As the world shifts to a new normal, we are always on the lookout for innovations that can improve our operations and financial products, where value is increasingly delivered through the digital economy.