Distribution for Financial Year Ended December 2023

Distribution period

1 January 2023 - 30 June 2023

Distribution Type

Income Distribution

Notice of entitlement

17 August 2023

Ex-Dividend date

30 August 2023

Entitlement date

1 September 2023

Distribution payment date

15 September 2023

Distribution per unit (DPU) (sen)

4.62
Sunway REIT has a long-term distribution policy of distributing at least 90% distribution payout ratio based on reported realised income. The distribution will be announced on a semi-annual basis. Sunway REIT has distributed 100% of its reported realised income from FP2011 to FY2019 and at least 90% for each subsequent financial year. In FY2022, Sunway REIT changed the distribution policy to 95% in 2Q 2022 and subsequently, 100% in 4Q 2022.
DISTRIBUTION PER UNIT (DPU) (SEN)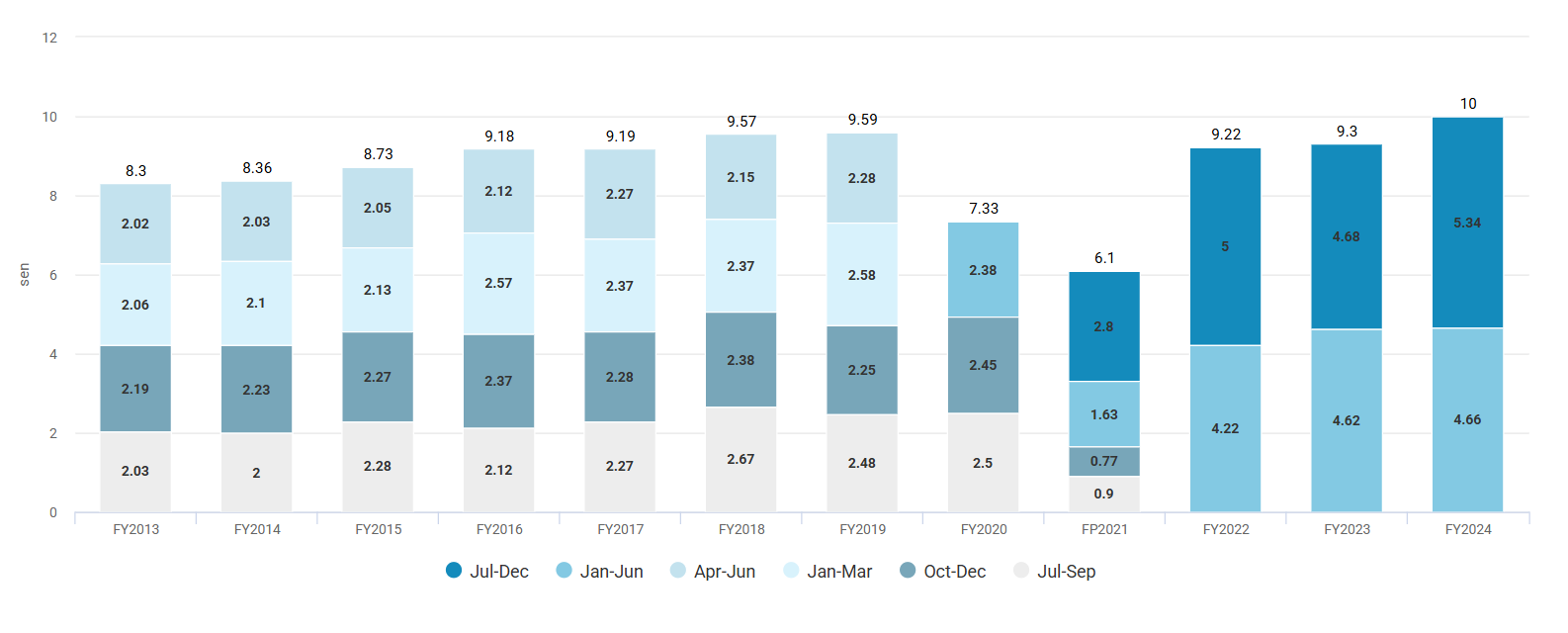 Effective from January FY2020, the distribution frequency has been changed from quarterly to semi-annual basis.
FP2011: The financial results reported refers to the period from 20 May 2010 to 30 June 2011 (FP2011).
FP2021: Financial period for the period from 1 July 2020 to 31 December 2021 pursuant to change in financial year to December 2021.
Jul-Sep FP2021: An advance income distribution was distributed to existing unitholders prior to the issuance of new units pursuant to the private placement exercises.
BENEFITS OF USING E-DIVIDEND
Faster access to your cash dividends which would be credited directly into your bank account.
Eliminates the inconvenience of having to travel to the bank to deposit the dividend cheques.
One-off provision of bank account details for all listed issuers on Bursa Malaysia Securities Berhad ("Bursa Malaysia").
Better account management with the option to consolidate the dividends from all your Central Depository System ("CDS") accounts into one bank account.
Eliminates the problem of misplaced, lost or expired cheques and unauthorised deposit of dividend cheques.
For those shareholders who have previously opted for direct crediting of dividend entitlement via GIRO Service with the Company, you will still need to register for eDividend to enjoy the following additional benefits:-
the convenience of a one-off registration for entitlement to eDividend from all listed issuers; and
the option to consolidate the dividends from all your CDS accounts into one bank account for better account management.
IMPLEMENTATION OF ELECTRONIC DIVIDEND PAYMENT ("EDIVIDEND")
Electronic Dividend Payment or eDividend refers to the payment of cash dividends by a listed issuer to its shareholders by directly crediting the shareholders' cash dividend entitlements into their respective bank accounts. In tabling the Federal Budget 2010, the Prime Minister announced that all listed issuers are required to offer eDividend services to their shareholders. The Securities Commission's subsequent press release stated that shareholders are given a one year grace period to provide their bank account information to Bursa Malaysia Depository Sdn Bhd ("Bursa Depository") (as the repository of such information) and that eDividend will be implemented in the third quarter of 2010.
The main objectives of implementing eDividend are, amongst others, to promote greater efficiency of the dividend payment system and to put the Malaysian market on par with practices in other regional markets in relation to receipt of dividend proceeds by shareholders.
IMPLEMENTATION OF EDIVIDEND
The eDividend framework will be implemented in two phases as describes below:
FIRST PHASE
The first phase involves the collation of bank account information from shareholders where shareholders will be able to start providing their bank account information to Bursa Depository (through their authorised depository agents/brokers) from 19 April 2010.
SECOND PHASE
In the second phase, Bursa Depository will be able to provide bank account information together with the Record of Depositors to those listed issuers who need the bank account information for eDividend. As such, by 1 September 2010, listed issuers may request for the bank account information together with the Record of Depositors from Bursa Depository.
ADDITIONAL INFORMATION FOR SHAREHOLDERS
Your savings or current account, must be an active bank account, maintained with a local bank under your name or in the case of a joint account, has your name as one of the account holders. It must also be a bank account with a financial institution that is a member of the Malaysian Electronic Payment System Inter-Bank GIRO (IBG) set out below, which can be found on this website: http://www.meps.com.my/





















You are encouraged to provide in the prescribed form to Bursa Depository both your mobile phone number and e-mail address, if any. This is to enable the Company to issue electronic notification to you either via e-mail or SMS, at the discretion of the Company, once the Company has paid the cash dividend out of its account. Please note that if you provide only your mobile phone number, you may only be notified of the cash dividend payment when you receive your dividend warrant or tax certificate.
Once you have registered for eDividend, any cash dividend entitlement of which the books closure date is announced by the Company on or after 1 September 2010, shall be paid to you via eDividend.
For further information, please refer to Bursa's website: www.bursamalaysia.com
DOWNLOAD